Nurses, midwives and carers around the country are working tirelessly to provide quality care to the Australian public. The provision of 24/7 care comes at a significant personal cost, not just to the wear and tear on our own health, but also to our personal lives as we miss out on time with family and friends. Despite a '24 hour economy' few workers actually work 24 hours across the clock: nurses and care staff do.
The ANMF Tasmanian Branch strongly supports our members' right to penalty rates and recognises that a loss, or major reduction, of penalty rates would:
Significantly reduce nurses, midwives and carers "take home" pay (on average could reduce weekly pay by 22%)
Fail to recognise, value, and compensate for the sacrifice nurses, midwives and carers make in providing 24/7 care,
Potentially lead to refusals to work rotational shift work
"ANMF are dismayed that any work performed by nurses, midwives or care workers could be considered 'non-essential', particularly in aged care or non-traditional health care settings. Work performed by staff in these areas, irrespective of the setting or environment is essential and targeting sectors like aged care to reduce penalty rates is short sighted" said ANMF Tasmania Branch Secretary Emily Shepherd.
Recently, media attention has focussed on some industry wage deals where unions have participated in enterprise bargaining agreements which have resulted in less than industry award pay rates. Whilst the ANMF is aware that EBA bargaining can mean certain proposals are made to enable changes to conditions, we would assure our members that EBAs we have bargained, that have been accepted by a vote of our members, have ensured pay rates far higher than the Modern Nurses Award.
Some examples for comparison are located below: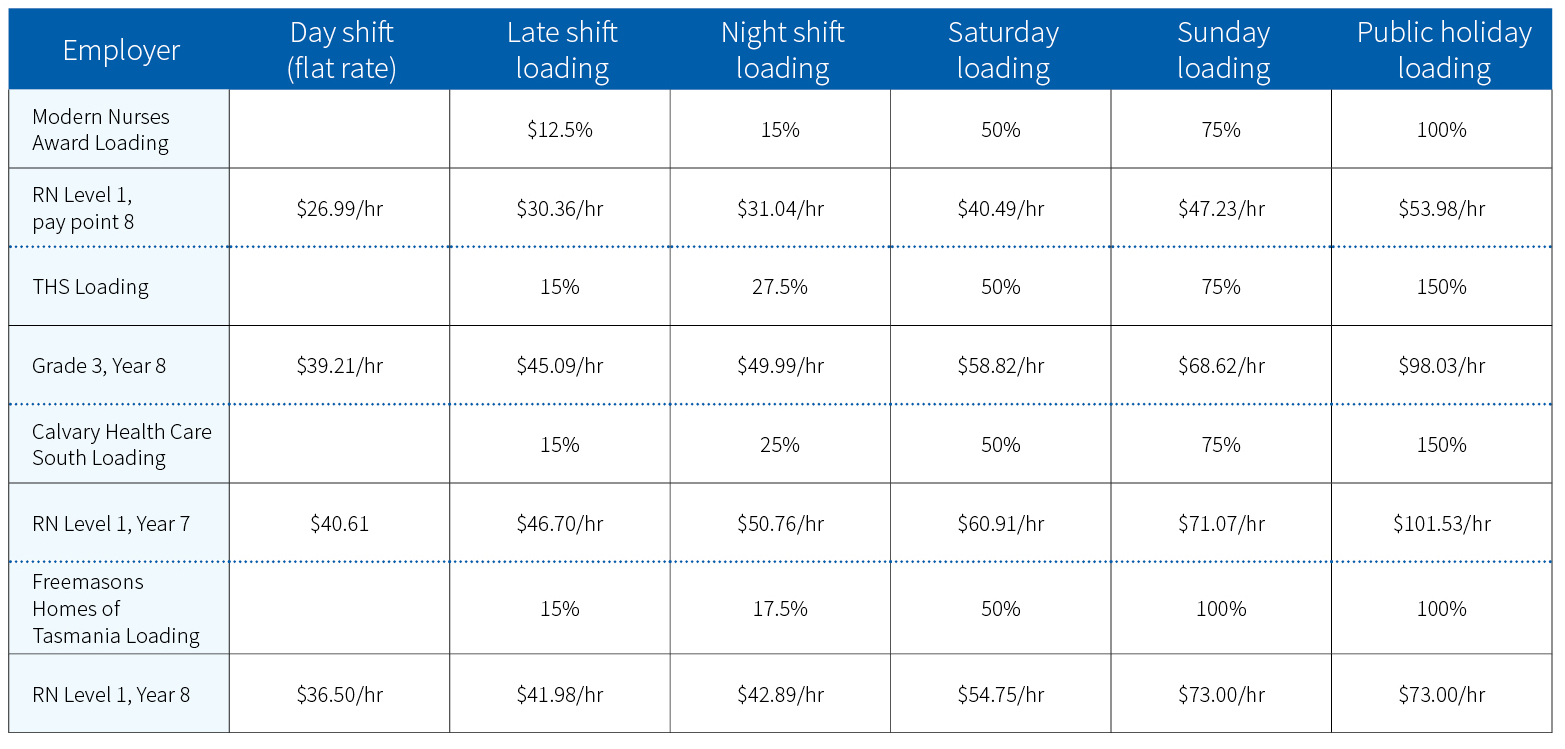 As we reported last year, the Productivity Commission recommended a "two-tier" penalty rate system. Those working in retail and hospitality have faced the first penalty rate cuts.
The ANMF Federally has sought legal advice, that the "tier" system of penalty rates may leave those who work in "aged and health care (particularly non-essential care) and nursing, where it isn't deemed to be an 'essential service'", at the highest risk of further penalty rates decisions.
 ANMF Tasmania stand side by side with all other ANMF branches and unions in fighting these cuts. We call on the Prime Minister to step-up and stop cuts to penalty rates before there's an exodus from our professions. We will continue to keep you updated as information comes to hand.
Make your opinion count be registering at http://www.protectourpenaltyrates.org.au/
Keep an eye on the ANMF (Tasmanian) and ANMF (Federal Office) websites and Facebook pages to stay up-to-date with campaign strategies and how you can participate to protect our penalty rates and the penalty rates of your family members (particularly those just entering the workforce).
If you believe your penalty rates are not being correctly applied please don't hesitate to call the ANMF Information Centre on (03) 6223 6777 or 1800 001 241 (outside Hobart area) for advice.