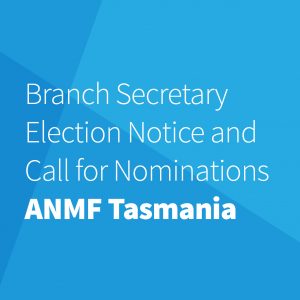 BRANCH SECRETARY ELECTION NOTICE & CALL FOR NOMINATIONS
In accordance with the Rules of the Australian Nursing and Midwifery Federation, nominations are called for the office of Australian Nursing and Midwifery Federation (Tasmanian Branch) Branch Secretary. Please refer to the related Election Notice outlining the process for nominations together with the prescribed Nomination Form for use.
INFORMATION ABOUT THE OFFICE FOR NOMINATION
 Term of Office
The Branch Secretary shall hold office for a term of four years and shall assume office on the 30th of November in the year of their election, provided that where the election result for the said office has not been declared by this time the successful candidate shall when the result is declared assume office forthwith. 
The candidate elected to the office shall hold it in accordance with the Rules until the successor duly assumes the office.
Qualification for Office and Nomination
A candidate for election to the office of Branch Secretary shall have been a financial member of the Federation for a period of two years immediately preceding the date of nomination for office and shall be a member of the branch in which they are nominating for office at the date of nomination.
A person elected to the office of Branch Secretary shall not be employed by or remain in the employment of the Federal Council of the Federation in any capacity.
Nomination for election to the office shall be in writing and signed by three other financial members of the Branch.
No person who holds office or any paid position in any other Association, Organisation or Union with industrial objects other than the following:
Queensland Nurses' Union of Employees,
The Australian Nursing Federation Industrial Union of Workers, Perth,
The Australian Nursing Federation (SA Branch), or
The New South Wales Nurses Association.
shall be eligible to nominate for or hold office as Branch Secretary.
 As stipulated in the Election Notice, nominations must be in writing and comply with the rules of the organisation and may be made at any time from Monday 25 September 2017. They must reach the Returning Officer (Australian Electoral Commission) via the lodgement methods outlined in the Election Notice not later than 12noon AEST on Tuesday 10 October 2017. Nominations cannot be withdrawn after this time.
 Nomination forms are also available from the Returning Officer or the ANMF (Tasmanian Branch) office.
NOMINATION FORM: Click here to download…