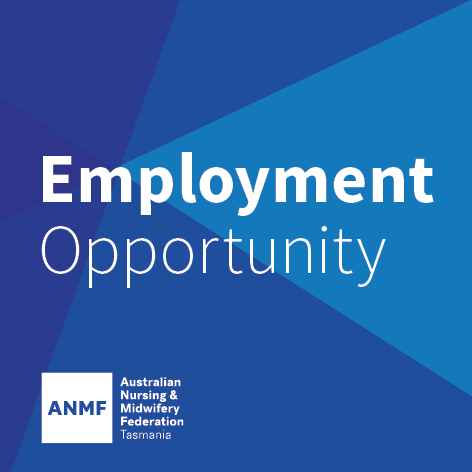 Senior Member Support Officer
The Australian Nursing and Midwifery Federation - Tasmanian Branch (ANMF) is the leading professional and industrial body supporting nurses, midwives, and care workers in Tasmania.
ANMF (Tasmanian Branch) is seeking a Senior Member Support Officer to work negotiable hours in its Hobart Office. The successful applicant will provide information, advice and support to ANMF members on a wide range of professional and industrial issues. The position offers an exciting case management opportunity for a suitable individual with a nursing background, and an interest or experience in industrial, professional, HR or legal areas.
The successful applicant will have:
highly developed written and oral communication skills
a logical and problem solving approach
an ability to research and develop resources
the ability to undertake complex case management
highly developed organisational skills and the ability to prioritise workloads
A nursing qualification is desirable, however not essential. Comprehensive training will be provided, allowing the successful candidate to build on both industrial and professional nursing knowledge, giving them a solid foundation for career progression at ANMF or any in any field of nursing.
The position description including selection criteria is available at here.

For further information please contact:
Jess Russell
Organiser Support Officer
jobs@anmftas.org.au
03 6223 6777.
Applications including a statement addressing the selection criteria and a current resume marked 'Confidential' should be addressed to:
Australian Nursing & Midwifery Federation (Tasmanian Branch)
Director of Operations and Strategy
182 Macquarie Street, Hobart TAS  7000
or via email jobs@anmftas.org.au
by 5:00pmm, 29th November, 2017.
ANMF (Tasmanian Branch) is an equal opportunity employer