During May the Aged Care Campaign was rolled out across the state.
You will have read about the events held in Hobart earlier this month in our last edition of eNews.
Since then we also held a Listening Post at Quadrant Mall in Launceston.
ANMF staff in the North along with Branch Secretary Emily Shepherd spent the morning of Friday 18 May talking to community members about the struggles in aged care and the current profit shifting of public funds by some providers in the industry.
ANMF welcomed the support of the community along with local Federal Bass Ross Hart MP who also attended. ANMF will continue to lobby key political parties and independent members to achieve a better outcome for our aged care members and the residents they work so hard to look after.
We encourage all members to support the campaign by signing up at www.MoreStaffForAgedCare.com.au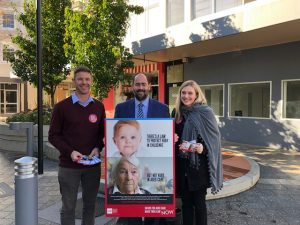 ANMF Industrial Organising Manager Shane Rickerby, Federal Bass Ross Hart MP and Tasmanian Branch Secretary Emily Shepherd in the Launceston mall.