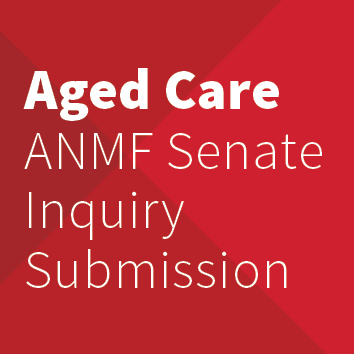 ANMF Aged Care Senate Enquiry
8  June 2018
Today the Australian Nursing and Midwifery Federation Tasmanian Branch (ANMF) submitted their Senate inquiry into Aged Care.
The ANMF have a significant interest in the Aged Care Industry in Tasmania and represent Registered Nurses, Enrolled Nurses and Care Workers in Tasmania working in both not-for-profit and for-profit aged care facilities.
Tasmania has the highest population of people over the age of sixty-five in Australia with nearly 19 percent of the Tasmanian population being sixty-five or older. This change in demographics increases the need for access to residential aged care facilities.
There are six for-profit providers in Tasmania:
1. Aged Care Services Australia Group Pty Ltd (ACSAG/Japara)
2. Bupa Care Services Pty Ltd (BUPA)
3. Menarock Aged Care Services (Claremont) Pty Ltd (Menarock)
4. Regis Aged Care Pty Ltd (Regis)
5. IBIS no 3 Pty Ltd (Synovum)
6. The Trustee for Cormiston Village Unit Trust (Cadorna House)
The ANMF Tasmanian Branch have members in all six for-profit residential aged care organisations across the state. Members consistently report to us the challenges they face, due to poor staffing levels, in providing the quality care that they wish to their elderly and vulnerable residents. This submission outlines these concerns.
Submission:
To read the full submission online, click here.
Campaign: 
To join the National ANMF Aged Care Campaign, click here.