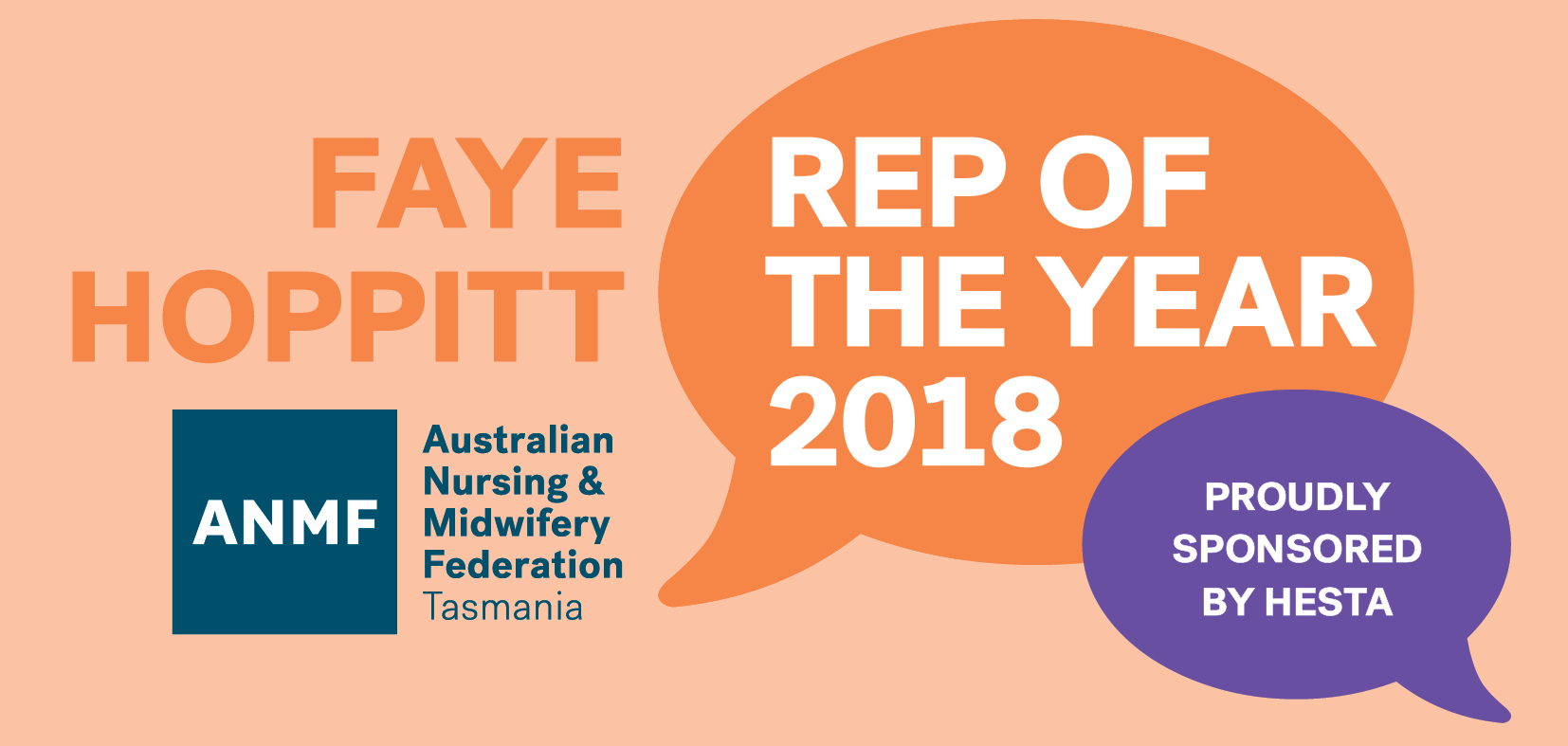 11 July 2018
The Faye Hoppitt Rep of the Year Award 2018 Winner, Runner Up and Finalists were announced at this years Annual Delegates Conference dinner in Launceston on Thursday 5 July. The award goes to an outstanding delegate who shows exellence in their role.
The criteria for the award was based on:
Recruitment of Members
Representation of Members (Individual & Workplace)
Activism
The Winner of the Rep of the Year Award 2018 is:
Irene McInerney
Worksite: Southern Cross Care

Irene is the winner of Rep of the Year 2018 because:
Irene's energy has inspired nurses to stop and think about the aged care campaign and the ANMF role in supporting it.
Irene has been the face of the campaign for mandatory ratios in aged care as well as fair pay conditions for both nurses and careers. Her passion is evident; it takes a lot of guts to put your face out there and risk your job by speaking the trust at rally's and in the media about the real conditions that nurses and residents continue to experience. Her energy courage and resilience are an inspiration to all and is worthy candidate for this Rep of the Year award.
Runner Up
Sue Luke
Worksite: Child Health & Parenting Service (CHaPS NW)

Suzanne has been nominated for Rep of the Year 2018 because:
Suzanne is outstanding, consistent and compassionate support and representation of CHaPS staff recently regarding staffing levels and our administration who was going to have his position remain with CYS rather than transfer with the rest of our positions.
Suzanne has worked passionately and tirelessly on our behalf for many years now.
Finalist
Helen Evans
Erin Webb
Irene McInerney
Jennifer Cantley
Sue Luke
The ANMF would like to congratulate the Winner, Irene McInerney and all of the finalists for their outstanding performance as a Workplace Representative.
Pictured below (L-R) ANMF Branch Secretary, Emily Shepherd, Helen Evans (Finalist), Erin Webb (Finalist), Irene McInerney (Winner), Sue Luke (Runner Up) and Carmen Ransley (HESTA).