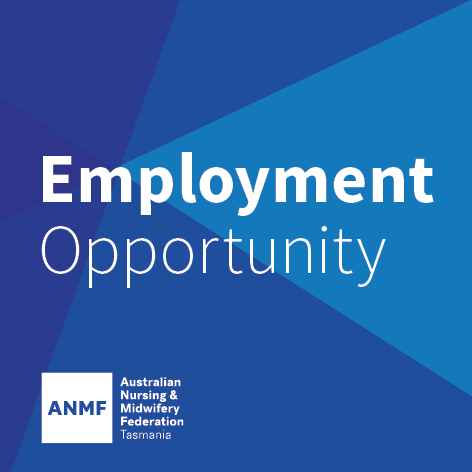 CPD Coordinator
The Australian Nursing and Midwifery Federation Tasmanian Branch (ANMF) and our  Health Education Research Centre (HERC) have an exciting opportunity for a self-driven, experienced registered nurse, with a passion and commitment to education and training of the nursing workforce in Tasmania.
The role will begin as a six-month project and see the successful candidate engage with the Tasmanian health providers to identify nurse, midwife and care worker training needs in the Tasmanian healthcare sector, with a focus on aged care and small private providers.
The ANMF Continual Professional Development (CPD) Coordinator will also be responsible for coordinating and facilitating the branch's CPD functions including:
Coordination of CPD provided by ANMF to members and non members across the state.
Coordination of conferences, including securing speakers, advising on content and developing the broader conference program.
Preparation, conduct and reporting on performance assessment reports for nurses and midwives on behalf of ANMF and HERC for AHPRA when required.
Continuous quality control and improvement of the branches CPD functions and content in line with best practice and compliance with national standards and regulations.
The successful applicant will show:
Insight into the Tasmanian nursing industry and contemporary nursing practice and challenges facing practice development in the industry.
Have a personable and professional approach to dealing with both internal and external stakeholders.
Experience with project planning and/or the ability to articulate a well thought out planned approach to engaging industry in training activities.
Applications including a statement addressing the selection criteria and a current resume marked 'Confidential' should be addressed to Director of Operations and Strategy, 182 Macquarie Street, Hobart TAS 7000 or via email jobs@anmftas.org.au by  5pm Friday 24 August 2018.
A copy of the position description can be found here
For further information please contact Siobhan Grady, HERC Business Manager via jobs@anmftas.org.au or 6223 6777.
ANMF (Tasmanian Branch) is an equal opportunity employer.
Please note that this role does involve frequent intrastate travel and some interstate travel.