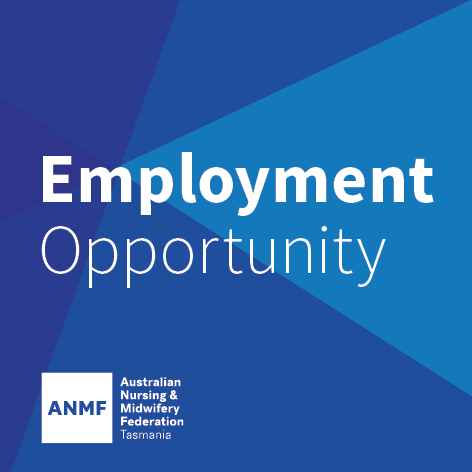 ANMF Organiser - South
The Australian Nursing and Midwifery Federation Tasmanian Branch (ANMF) is the leading professional and industrial body supporting nurses, midwives, and care workers in Tasmania.
We are seeking a Southern Organiser (hours negotiable) in our Hobart Office for a six-month fixed term maternity leave cover with the possibility of ongoing employment.
The successful applicant will provide information, advice and support to our members on a wide range of professional and industrial issues.
The successful applicant will have:
Highly developed written and oral communication skills
A logical approach to problem solving
An ability to research and develop resources
The ability to undertake complex case management
Highly developed organisational skills and the ability to prioritise workloads
 The job will include:
Campaign to improve conditions and pay for members
Engage ANMF members to understand professional and industrial issues
Represent ANMF members in disciplinary matters
Support ANMF Workplace Representative to advocate and represent members
Work closely with the ANMF Industrial Services and Member Support teams to grow your industrial and representation knowledge and skills
This is an exciting opportunity for a self-motivated nurse looking to expand their career path. Comprehensive training will be provided, allowing the successful candidate to build on both industrial and professional nursing knowledge, giving them a solid foundation for career progression at ANMF or any field of nursing.
If you are passionate about the rights and working conditions of nurses, midwives, and care workers, then this could be the job for you and we encourage you to apply!
Applications including a statement addressing the selection criteria and a current resume marked 'Confidential' should be addressed to Director of Operations and Strategy, 182 Macquarie Street, Hobart TAS 7000 or via email jobs@anmftas.org.au by Wednesday 10 October 2018.
A copy of the position description including the selection criteria to address can be found here
For further information please contact: Andrew Brakey, Director of Operations and Strategy: jobs@anmftas.org.au or (03) 6223 6777.
ANMF (Tasmanian Branch) is an equal opportunity employer.