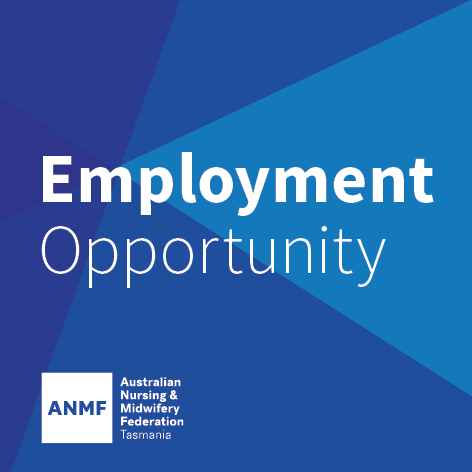 Student Support Officer
Full time
8-month contract
The Health Education & Research Centre (HERC) at the Australian Nursing and Midwifery Federation (Tasmanian Branch) is seeking a highly motivated individual to be responsible for the effective day to day management of all general administrative duties associated with students, internal and external stakeholders.
Enjoy the challenge and reward of an exciting position as part of the HERC Team.
To be considered you will have the following:
•   Demonstrated experience in a similar administrative role;
•   Strong background and experience in a VET and/or general education environment;
•   Proficient IT knowledge and computing skills including using Word, Excel and Power Point;
•   Significant, practical experience and demonstrated ability to manage student databases, such as VETTrak or similar;
•   Experience in version control of documents;
•   Excellent verbal and written communication skills;
•   Ability to work collaboratively within a team environment as well as autonomously and seek direction as required;
•   Ability to engage and work with a variety of internal and external stakeholders;
•   Demonstrated ability to manage multiple projects and deadlines to a high standard of accuracy;
•   Commitment to the principles of Unionism.
The Position Description including Key Selection Criteria is available here
For further information please contact HERC Business Manager, Siobhan Grady, jobs@anmftas.org.au or (03) 6223 6777.
Applications including a statement addressing the selection criteria and a current resume marked 'Confidential' should be addressed to
HERC Business Manager,
182 Macquarie Street,
Hobart TAS 7000
or via email jobs@anmftas.org.au by COB 1 May 2019.
ANMF/HERC will contact candidates who may progress to interview and if your application is unsuccessful you may not be contacted.
ANMF (Tasmanian Branch) is an equal opportunity employer.