Wrap Up: Aged Care Conference 2023
On Tuesday 9 May, 80 Tasmanian aged care representatives joined the ANMF and HERC at C3 Convention Centre South Hobart for the 2023 Tasmanian Aged Care Conference.
Lead by Tamara Gee HERC CPD Coordinator and RTO Educator, the day kicked off with an opening address from ANMF Tasmanian Branch Secretary, Emily Shepherd who then welcomed Eleanor Laud from Advocacy Tasmania to be the first speaker for the day. Eleanor delivered an informative and captivating session on aged care rights and advocacy, followed by an engaging Q&A session and discussion on the role of her team and the complexity of advocating for elderly people.⁠
Before the morning tea break, Carmen Ransley from HESTA took the stage to provide attendees with valuable information and answered questions about superannuation.
Following our morning sessions, Jodie Courtney from Primary Health Tasmania made a presentation about their services. Kristina Mullins from the Moreton Group then presented content about the complexities of treating ageing on the street. Kristina shared insightful stories from the people her team assist and pointed out the need for more Nurse Practitioners to support our communities and health system – a statement we could not agree with more!
We then welcomed Dave Reynolds from the Drug and Alcohol Network (DEN). Dave gave a comprehensive look into what addiction is, the cultural stigma of addiction and the impacts of prior alcohol and other drugs in an aged care setting. Attendees were presented with helpful tools including how to use de-stigmatised, neutral language around addiction to better support those taking steps towards healthier choices and recovery. On conclusion of Dave's presentation, the ANMF presented DEN with a $500 donation in lieu of speaker gifts.
During lunch, food and refreshments were enjoyed and it was pleasing to see attendees and speakers enjoying making connections between one another during this time. Our supporting sponsors were also available for attendees to discuss their products and services with them.
Following lunch, Ashleigh Speedie from Nurses & Midwives Health was invited to the stage to help assist in presenting and announcing the winners of the 2023 Nurses & Midwives Health Aged Care Excellence Awards. The winners were:
Aakriti Bhandari from Peacehaven (Masonic Care Tas / Respect)
Karen Jackson from Medea Park Residential Care St Helens
Heather Jensen from ACD, Kangara
Congratulations to all winners and also the nominees for your outstanding contribution to Tasmanian aged care!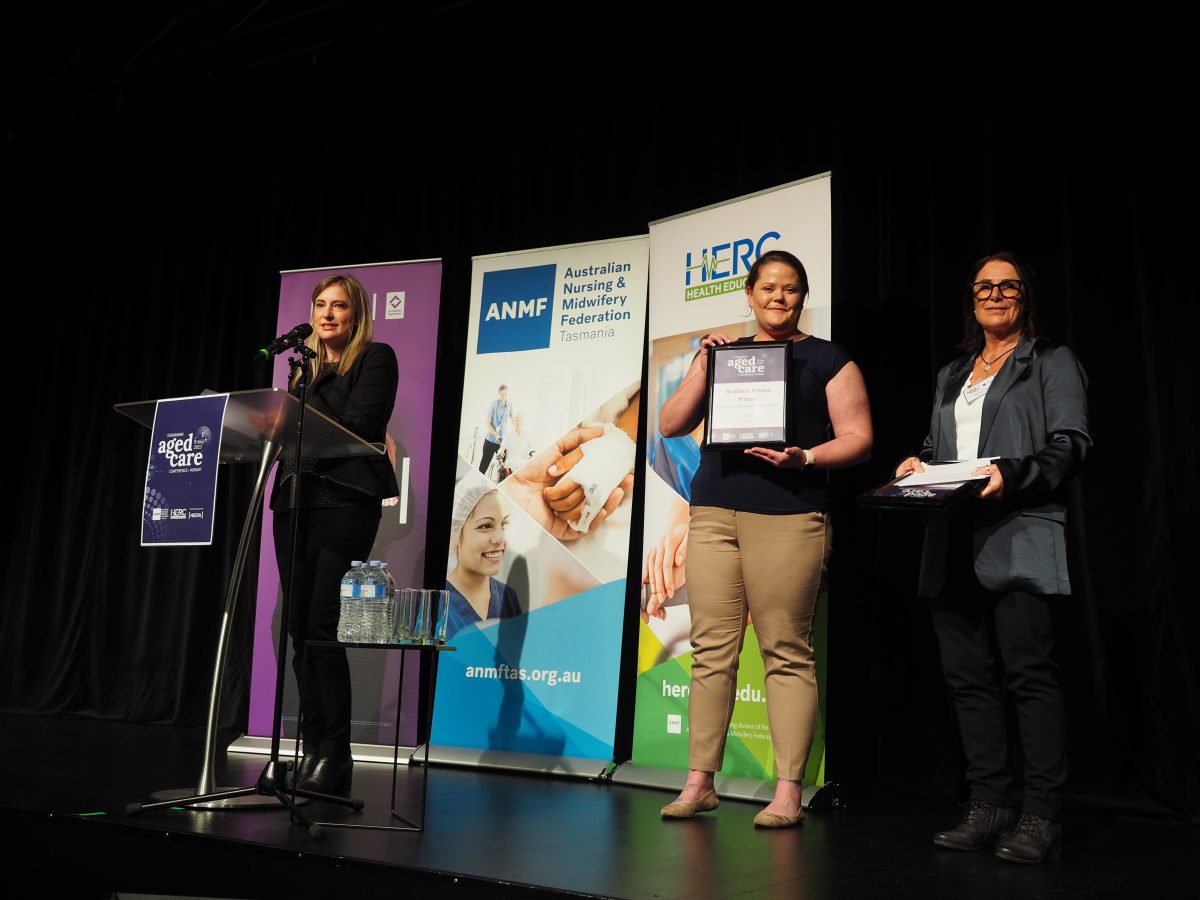 Following the awards presentation, Chloe Jansz  from Sentry Medical gave a highly engaging presentation on how her team is developing the future of skin tear treatment for aged care.
We then invited Bec Lyons, Independent Funeral Director, End of Life Doula & You 'n' Taboo Co-Founder to present on the how and why of home funeral and doula. Bec was incredibly generous in sharing her personal family stories and experiences to educate attendees. We are sure her session will be reflected on for some time by those who heard from her.
Following afternoon tea, Pieter Van Dam from the University of Tasmania spoke about the development of the Transforming Research in Ageing (TRiA) Program, covering both research and educational initiatives for the aged care sector.
Our final speaker of the day was Dana Endelmanis, a Clinical Nurse Consultant with the Specialist Palliative Care Service. Dana spoke about improving palliative care outcomes in aged care across Tasmania's North West.
We finished off the day by presenting several prizes including an ANMF lucky door and early bird prize, and drew the winners of the HESTA and Nurseline raffles.
Thanks again to all attendees, speakers and sponsors who made yesterday's 2023 Tasmanian Aged Care Conference a success! It was wonderful to speak to attendees during the day to hear about what sessions they enjoyed, and see connections being made between aged care professionals taking part in the day.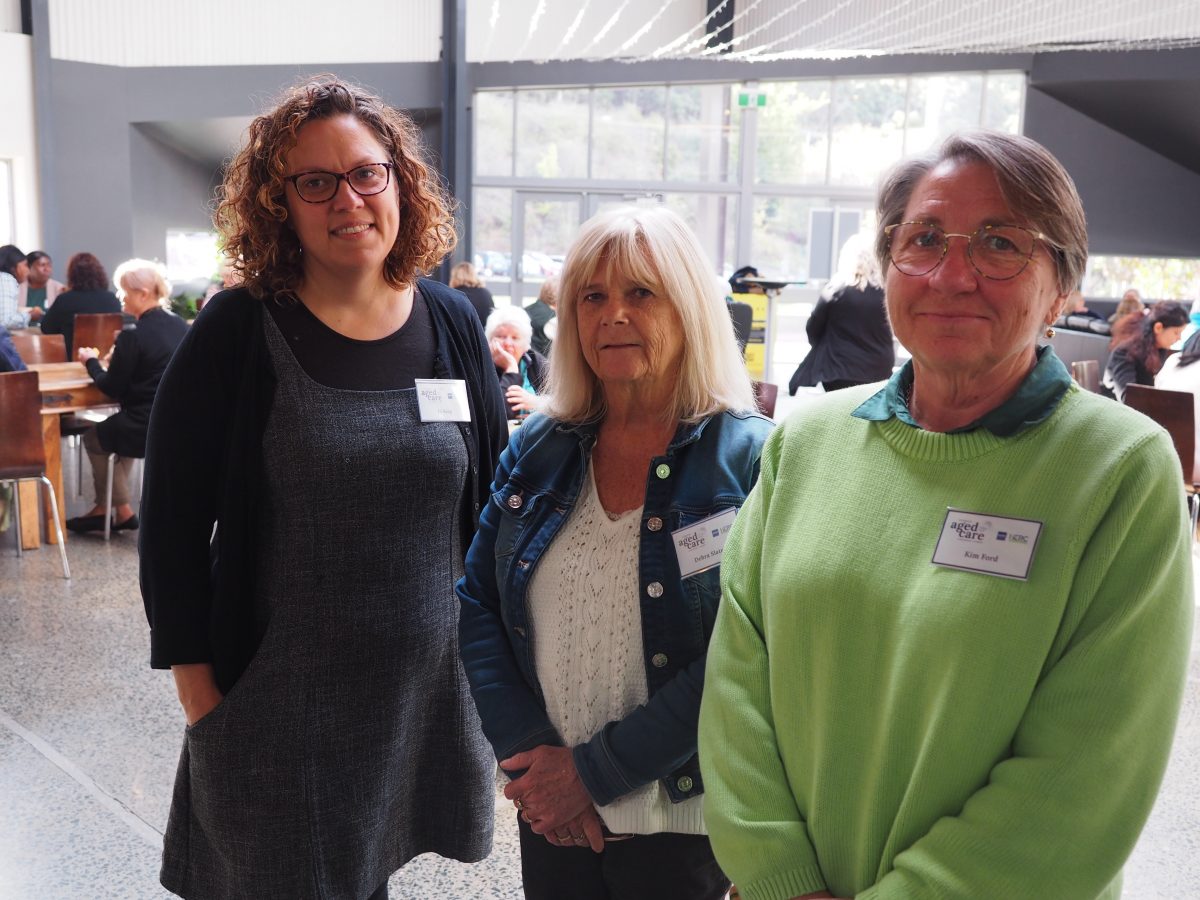 Di King, Debra Slater and Kim Ford (Department of Health Aged Care Referral Unit).
Updates correct as at 10 May 2023.
Authorised by Emily Shepherd, ANMF Tasmanian Branch Secretary