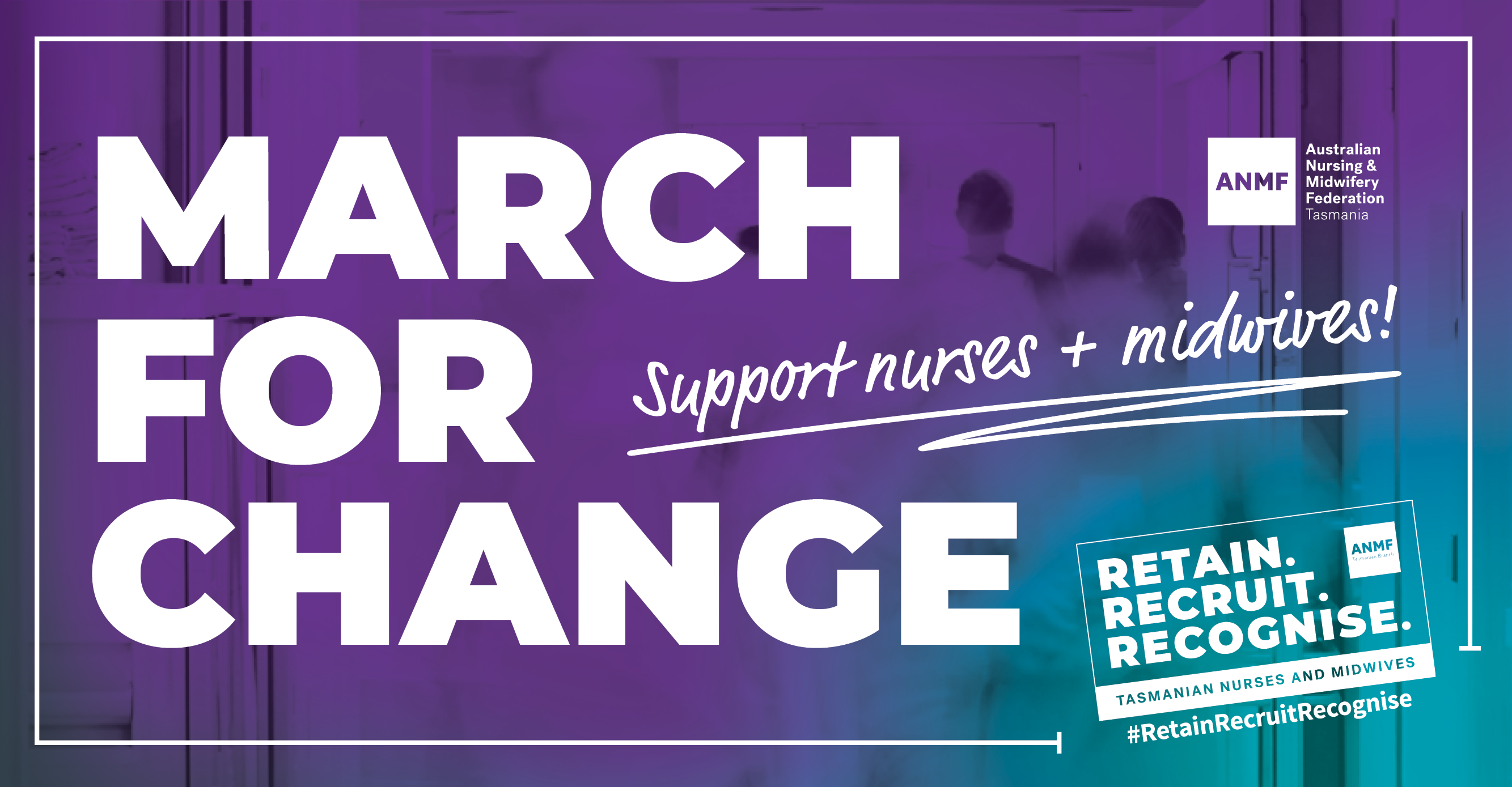 March for Change – Hobart Rally
A huge congratulations to everyone who came along to the March for Change last Friday 10th May 2019 in Hobart. As many of you know, this rally was part of the Tasmanian public sector nurses and midwives EA campaign. The ANMF, on behalf of public sector nurses and midwives have been in negotiations with Tasmanian Government for over a year with no appropriate offer provided to date. Members in Launceston will be holding similar actions at a health vigil outside the Launceston General Hospital tomorrow between 2.30pm and 3.30pm. We encourage you to head along and make a stand.
Friday's action in Hobart and the action to be held in Launceston on Thursday 16th May are important because they coincide with this weekend's federal election where health is a topic that cannot be ignored.
In Hobart, ANMF Workplace Representatives spoke on behalf of members about the situation being faced at the Royal Hobart Hospital (RHH) on a daily basis. Ashley from the RHH Department of Psychiatry (DoP) spoke about the impact significant nursing shortages in DoP are having on patients and staff. She also explained the reality for nurses and patients in the Department of Emergency (DEM) as they deal with daily bed block problems due lack of space caused by the redevelopment.
ANMF member Ellen from the RHH Department of Emergency (DEM) addressed the crowd of over 200 people speaking to the issue of burnout and retention due to unsustainable working conditions. She described the daily horrors experienced by exhausted nursing staff in DEM as a result of significant bed block and ambulance ramping. Both Ellen and Ashley spoke passionately and eloquently on the pressures that all nurses and midwives face daily.  Many thanks to you both.
Politicians Nick McKim and Julie Collins also spoke to the issues facing the Tasmanian Health Service both now and into the future. While ANMF Branch Secretary Emily Shepherd took some time out of her maternity leave to send a message to the Hodgman Liberal Tasmanian Government. Nick kindly took the time to understand the crux of the issue and visited the Launceston General Hospital with Dr Richard Di Natale in the weeks leading up to the rally. Nick spoke about seeing patients in the waiting room receiving intravenous antibiotics due to bed block. ANMF thanks Nick for making the extra effort to understand the concerns of nurses and midwives in Tasmania. It should be noted that all federal political parties were invited to attend the health rally in support of nurses and midwives, however not all did so.
We would like to send a special thank you to the RHH Perioperative Services members. Throughout the life of the campaign these members, and their counterparts in the North and North West, have shown serious commitment in their fight for better pay and conditions. These members have staged industrial action over the past 6 months that has taken courage and had a significant impact. Their action included:
Weekly one hour stop work meeting where theatre members stood on the street with campaign material to draw attention to the cause.
Refusing to put patient identification labels on implant forms resulting in huge amounts of Commonwealth rebate money being withheld from the Tasmanian Government
Statewide stop work meetings
A half day stop work action where members bravely walked off the job from 1 pm to 6pm at the Royal Hobart Hospital. During this time, members handed out flyers in the CBD to promote the campaign to the public.
Perioperative Services members have been united in their action and strongly believe in standing up for nurses and midwives in the state. They have shown beyond a doubt what an awesome bunch of dedicated members they are.
Thank you to everyone who has supported the campaign to date in whatever way possible. Enough is enough. It is time for the Tasmanian Government to change its approach and invest in the future of nursing and midwifery in Tasmania. And lastly thank you to all those who stayed behind to maintain safe patient care, your colleagues couldn't have done it without you!
The fact is that the current health crisis in Tasmania cannot be ignored by the Tasmanian Government any longer. The issues will only deepen if public sector nurses and midwives are not delivered a fair offer that delivers a competitive package compared to their mainland colleagues. Without this package public sector nurses and midwives will continue to leave Tasmania. Ultimately, areas like the new Royal Hobart Hospital K Block will not have enough staff to care for patients as a result. Beds will remain closed and bed block will continue. Elective surgery will continue to be cancelled and lists will get longer.
If you have not sent your letter to the Premier yet, we encourage you to do so today. It takes not time at all and could have a huge impact on the future of health care in the state. Simply click here.