ANMF COVID-19 Newsflash: Public Sector COVID Leave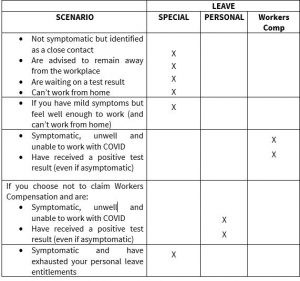 The ANMF remind members that, if you test positive and believe you caught COVID in the workplace, you are entitled to make an application for Workers Compensation (WC). If you have limited personal leave available, a WC application will ensure that you have an income while you are sick and also allow you to retain your personal leave entitlements in case you suffer a non COVID related illness or injury.
The ANMF have also raised the question of whether a nurse or midwife, who has exhausted all personal leave entitlements because of COVID or suspected COVID infection, should be able to access paid leave entitlements if they later experience a non-COVID related illness or injury. We are awaiting a response to this question.
Updates correct as at 13 January 2022.
Authorised by Emily Shepherd, ANMF Tasmanian Branch Secretary